How to List a Luxurious Rental Property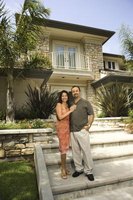 Listing your deluxe home or apartment means developing an approach to attract renters to a property that offers amenities above and beyond those of other market listings. High-end renters may not attend open houses or rental housing previews, so your listing plan must include visually appealing print and online marketing materials to entice prospects.
Instructions
Research the available and recently rented luxury units near your property. Note the time on the market and the features offered in units that rented quickly; such information can be found on a comparative market analysis, which you can get from a real estate agent familiar with the area.
Compile a list of your rental property's features that meet the demands of the luxury rental market as determined by your research. These might include multiple shower heads and saunas in bathrooms, scenic views or a gourmet kitchen.
Stage the property with luxurious-looking furniture and decor — which you can lease — to enhance the interior. Rent enough furnishings to make the residence look comfortable, but still roomy. Take photos of the staged rooms to use in your marketing flier and online advertising.
Create a flier. Use simple word processing software — which usually includes basic brochure layout features — or desktop publishing software. Incorporate a few of the most attractive images you have of the property. Include a detailed list of your unit's high-end features to help potential renters compare it with other rentals on the market.
Shoot a video of your property to create a virtual tour, which you can upload to social networking websites along with your property flier. Walk through the home and use your camera to show visitors each room's luxury features. Also, capture footage of community pools, on-site amenities — such as concierge services — or conveniently located parking areas.
Launch a website for the property or hire a web designer to create and launch one for you. Include plenty of photographs, video clips and write a detailed description to enhance the site. Include your contact information, or that of your real estate agent, on each page of the site so that viewers can contact you easily.
Identify print and media outlets on which to publicize your rental property such as local magazines designed for high-income readers or websites that list luxury rentals. If your property is located in a specific area, such as an exclusive beach community, advertise it on websites and in magazines that promote the area.